Ah! I'm so happy to share this beautiful intimate The Gaston Wedding finally!
Special thanks to sweet April for finding me on the interwebs. She brought us together with Sandy for their wedding photos. April called me just a few weeks before the wedding date, to ask if I was available. Within the few minutes of talking, we were already laughing and the positive energy was vibing.

"Oh Sandy is going to love you! You are the perfect fit to photograph their wedding!"
Sandy and Epsilon were planning on eloping in Hawaii, but the world had other plans for them. As a result of the ongoing pandemic, they unfortunately had to ditch their plans. Once their plans changed to keep their wedding local, I got lucky enough to meet this wonderful couple and photograph their celebration.
I love to hang out with my couples before the wedding, get to know them better. Epsilon worked in Chicago so we weren't able to setup a meeting earlier. We had our in-studio meeting and wedding details rendezvous literally the day before the wedding!
The Gaston is a new venue in the heart of Dallas. It's literally 3 minutes away from my studio – so we took it very easy that day. When I arrived, everyone was still getting ready. I started my coverage with the bridal details. I was in love with how beautiful everything was from the florals to the jewelry.
Epsilon's slim fit jacket looks fabulous, don't you think?
I loved Sandy's dress – but I LOVED her hairpiece! QUEEN!
The Gaston Dallas has a very intimate setting for their ceremonies.
"GOT YOU!" 🙂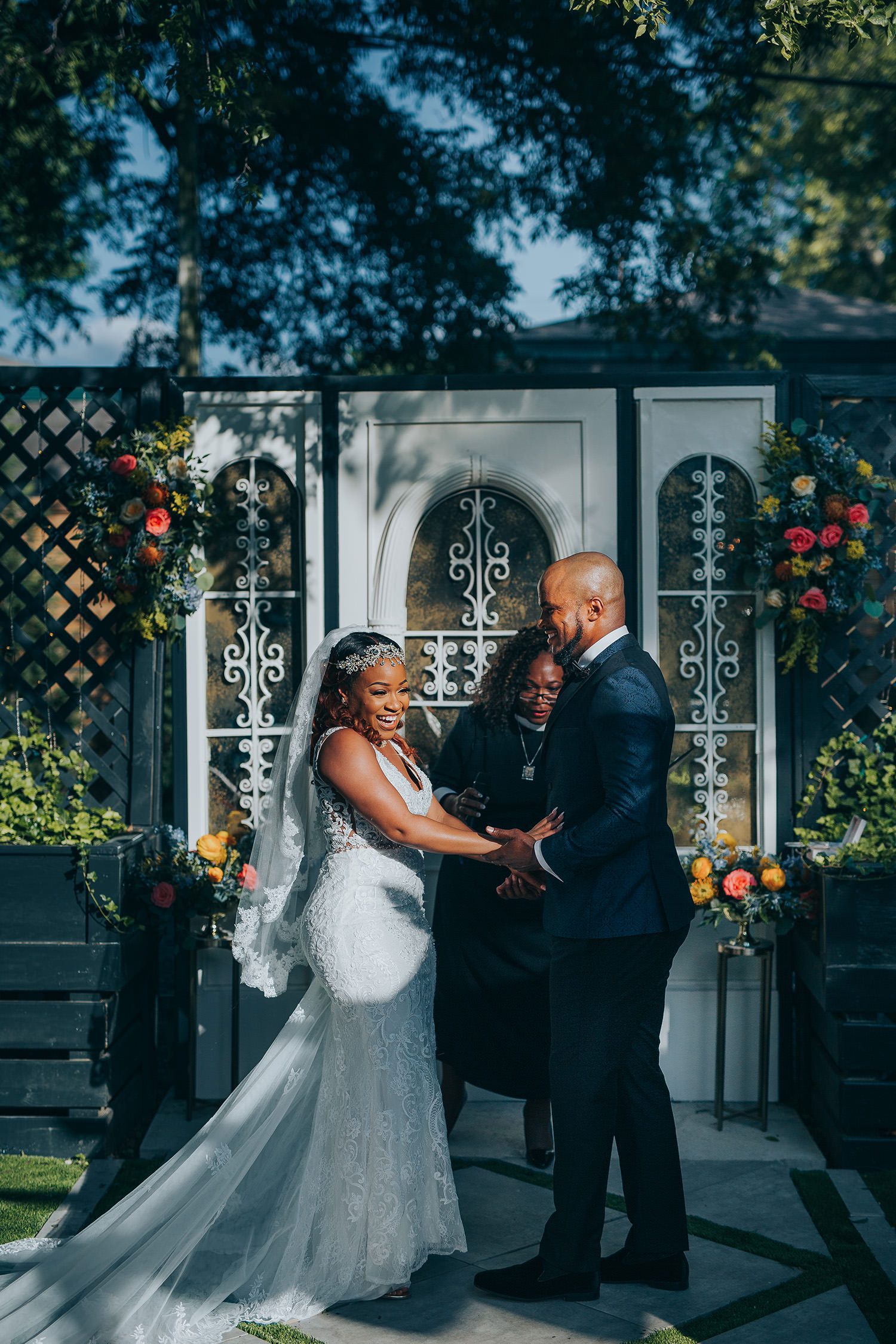 The newlywed portraits are probably my favorite from a wedding day. I get to give my couples beautiful photographs that will be their first family heirloom.
The gorgeous decor was done by Posh Couture and Platinum Petals Floral. I'm so in love with the colors!
One thing I loved about The Gaston is that every room has a different theme and there are A TON of photo opts throughout the venue. The owners have a great eclectic taste and WE ARE HERE FOR IT! 🙂
And this was probably the highlight of the night. This sweet girl was literally forced to be in the center of the dance floor and asked to dance…
But NOBODY saw what was about to come HAHA!
Her mama had to scoop her of the dance floor! I WISH I had a video to show you – it was amazing!

PS: Mama and papa of this sweet girl danced all night and they got some moves. You know what they say – the apple doesn't fall far from the tree! 😀
Thank you so much Sandy and Epsilon – for having me and Nick be part of your celebration! We loved every second of it and we can't wait to see you again!

SANDY AND EPSILON ARE MARRIED Y'ALL!!!!
The power team to make this wedding happen:

Venue: The Gaston
Florals: Platinum Petals Floral
Catering: Pizzeria Testa
Cake: Dallas Affaires Cake Co.
Bar Services: HD Liquid Catering
Dj: DJ Horn
Strings: Gaily Cowart
Planner: Adrienne Stamp of ArtisDri Productions
Rentals: Posh Couture
Valet: Pinky's Valet
Officiant: Khannah Josué
Photography: Tara Arseven Photography